Roof Replacement: Elevating Your Home's Protection and Curb Appeal
Your roof is a critical part of your home's structure and protection, and when it reaches the end of its lifespan or experiences significant damage, a roof replacement becomes necessary.
Roof replacement is crucial for the following reasons:
Enhanced Protection: A new roof provides superior protection against water leaks, mold growth, and other weather-related damage.
Preserving Property Value: A well-maintained and visually appealing roof adds value to your property and improves its curb appeal.
Energy Efficiency:

Upgrading to a new, energy-efficient roof can reduce heating and cooling costs.



Roof replacement is a significant investment that elevates your home's protection, value, and curb appeal. If your roof is showing signs of wear and tear, it may be time to consider a replacement.
At Rubman General Construction , we offer expert roof replacement services to transform your home with a brand-new, durable, and visually appealing roof. Protect your investment and enhance your home's curb appeal by entrusting your roof replacement needs to our skilled team.
Contact us today to schedule an inspection and take the first step toward a stronger and more beautiful roof.
Signs that Indicate the Need for Roof Replacement
Age of Roof: If your roof is approaching or has exceeded its expected lifespan (typically 20-25 years for asphalt shingles), it's time to consider a replacement.
Frequent Repairs: If you find yourself constantly repairing your roof due to recurring issues, a replacement may be more cost-effective in the long run.
Curling or Buckling Shingles: Shingles that are curling, buckling, or losing granules are signs of an aging roof that may need replacement.
Sagging Roof Deck: A sagging roof deck may indicate structural problems and necessitates immediate replacement.
The Roof Replacement Process
Roof Inspection: A professional roofer will conduct a thorough inspection to assess the condition of your roof and determine if replacement is necessary. 
Material Selection: Choose the roofing material that best suits your home's architecture, weather conditions, and budget.
Roof Removal: The existing roof will be removed, and any damaged decking or sheathing will be replaced.
Roof Installation: The new roofing material will be installed, starting with underlayment, followed by shingles or other roofing types.
Clean-up and Inspection:

Once the roof is installed, the area will be thoroughly cleaned, and a final inspection will be conducted to ensure quality workmanship.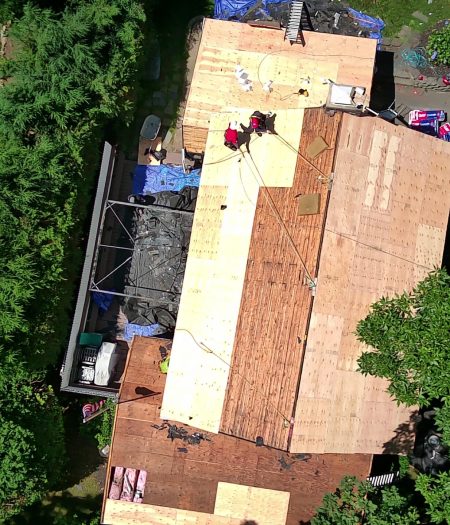 The Benefits of Working With Rubman Construction LLC
Expertise: Rubman Construction LLC are professional roofers and experts in the roofing business with years of experience serving you throughout Connecticut.   We have the experience, knowledge and skills to perform roof replacements efficiently and to the highest standard.
Warranty: Rubman Construction LLC is GAF Certified.  GAF Certification allows us to offer warranties on both materials and workmanship that many other roofers can't.  The warrantees we offer will provide you the peace of mind knowing you partnered with the best roofing company to take care of your home. 
Safety: Roof replacements involves risks.  Safety for our professional roofers and your property is our #1 concern.   We are bonded and insured and have all of the necessary safety equipment and training to handle the job.
Customization: Rubman Construction LLC offers a wide range of roofing materials, styles and colors to meet your personal preferences, budget  and needs.
We Are Certified GAF Contractors
Rubman Construction specializes in all roof related services throughout Connecticut.
We are Experts in our field and have the GAF Materials Corporation Certifications to back that up. By working with us, our certification will benefit you too! GAF not only certifies Rubman Construction is an expert in all of the latest roofing techniques, installation, product knowledge, and awareness but also offers the following benefits:
Quality Assurance: When you hire a GAF certified roofer, you can rest assured that you're working with a contractor who has met GAF's rigorous standards for excellence.

Extensive Warranty Coverage: One of the greatest advantages of hiring a GAF certified roofer is the warranty coverage you receive. GAF offers a comprehensive warranty on their products, and when installed by a certified contractor, you gain access to an extended warranty that provides additional peace of mind. Protecting your investment has never been easier!

Professional Expertise: GAF certified roofers undergo specialized training and education to keep up with the latest industry trends and best practices. By choosing a certified contractor, you're ensuring that your roof will be handled by a knowledgeable professional who understands the intricacies of the trade. From accurate assessments to precise installations, you can expect top-quality craftsmanship.

Enhanced Curb Appeal: A GAF certified roof not only provides superior protection but also enhances the aesthetic appeal of your home. With a wide range of stylish and durable roofing options available, you can choose a design that complements your home's architectural style while increasing its curb appeal. Transform your house into a showstopper in the neighborhood!

Peace of Mind: As a homeowner, you want to feel confident that your roof will withstand the test of time and weather conditions. By hiring a GAF certified roofer, you're investing in the longevity and durability of your roof. You can sleep peacefully, knowing that your home is well-protected against the elements.

If you need roofing services, Rubman Construction is your roofing contractor of choice in Connecticut!