Roof Repair in Connecticut
Are you in need of roofing repair services? Look no further than our expert team. We specialize in providing top-notch roofing repair services, using only the highest quality materials and techniques to ensure your roof is strong, secure, and beautiful…. and warrantied!
No matter what type of roofing damage you're facing, our team has the expertise to assess the damage, recommend the appropriate repairs, get the materials and get the job done promptly.  From leaks and missing shingles to hail and wind damage, we've got you covered.
At Rubman Construction, we understand the importance of a strong and secure roof for the protection and value of your home. That's why we're dedicated to providing fast, reliable, and affordable roofing repair services to our clients.
There are several types of damage that can occur to a roof which will require roofing repair. Here are a few examples that you should look out for. If you notice any of these types of damage to your roof, it's important to have it repaired as soon as possible to prevent further damage and ensure the longevity of your roof.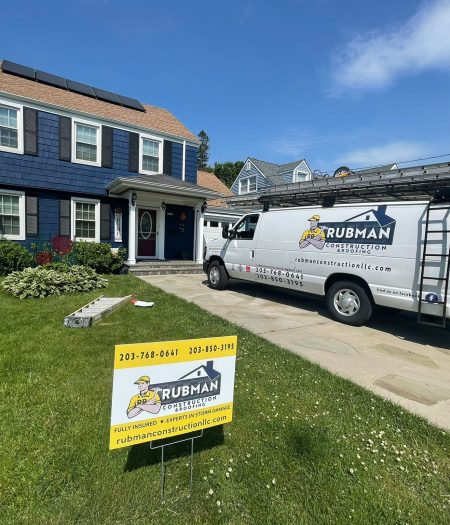 24/7 Emergency Roofing Repair Services
Rubman Construction is here to help you with any roofing emergencies you may be facing. From leaks to storm damage, we've got you covered. Our experienced professionals have the skills and knowledge necessary to handle any roofing emergency, no matter how big or small. We understand the urgency of these situations and will work quickly to identify the problem and provide a solution that meets your specific needs.
Don't wait until it's too late – contact us now for a free consultation and estimate. Trust us to handle all of your roofing needs!
Things to remember in a roofing emergency
A roofing emergency can be a stressful and potentially dangerous situation. Whether it's due to severe weather, a fallen tree, or other unforeseen circumstances, it's important to know what to do.
By following these steps, you can ensure that you stay safe and minimize damage in the event of a roofing emergency.
Remember to always prioritize your safety and seek professional help as needed.
We Are GAF Certified Roofing Contractors
Rubman Construction specializes in all roof related services throughout Connecticut.     
We are Experts in our field and have the GAF Materials Corporation Certifications to back that up.  By working with us, our certification will benefit you too!   GAF not only certifies Rubman Construction is an expert in all of the latest roofing techniques, installation, product knowledge, and awareness but also offers the following benefits: 
Quality Assurance: When you hire a GAF certified roofer, you can rest assured that you're working with a contractor who has met GAF's rigorous standards for excellence.
Extensive Warranty Coverage: One of the greatest advantages of hiring a GAF certified roofer is the warranty coverage you receive. GAF offers a comprehensive warranty on their products, and when installed by a certified contractor, you gain access to an extended warranty that provides additional peace of mind. Protecting your investment has never been easier!
Professional Expertise: GAF certified roofers undergo specialized training and education to keep up with the latest industry trends and best practices. By choosing a certified contractor, you're ensuring that your roof will be handled by a knowledgeable professional who understands the intricacies of the trade. From accurate assessments to precise installations, you can expect top-quality craftsmanship.
Enhanced Curb Appeal: A GAF certified roof not only provides superior protection but also enhances the aesthetic appeal of your home. With a wide range of stylish and durable roofing options available, you can choose a design that complements your home's architectural style while increasing its curb appeal. Transform your house into a showstopper in the neighborhood!
Peace of Mind: As a homeowner, you want to feel confident that your roof will withstand the test of time and weather conditions. By hiring a GAF certified roofer, you're investing in the longevity and durability of your roof. You can sleep peacefully, knowing that your home is well-protected against the elements.
If you need roofing services, Rubman Construction is your roofing contractor of choice in Connecticut!