We perform a wide range of commercial and residential roofing services for coverage throughout Waterbury. This includes repair, replacement and maintenance to extend the longevity of your commercial or residential roof. Depending on the construction and materials used, roofs can require attention or even replacement in as little as 15-20 years. We can evaluate the best means of action for your roof, whether it is repair, replacement or installation.
While leaks are often the catalyst for requiring a roofing service, there are also other indicators that your roof is no longer serving its purpose. An increase in energy bills may indicate that your roof is no longer retaining heat during colder periods. There may also be visual clues, cracks, blistered flat roof membranes or drainage problems. Repair is a good option for minor problems and to help prolong the life of your property's roof.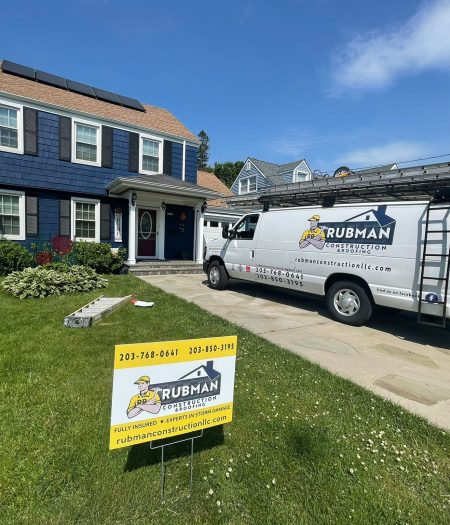 Are you fed up with costly roof repairs? Have you had more than one leak on your roof? Perhaps water has entered your roof in several places? If your answer is yes, you should probably consider a new roof. Constant repairs can be costly and, in some cases, only mask the problem for a while. While some roofs can last a lifetime, many roofing materials often break down after 20-25 years and may require replacement.
We have been replacing roofs throughout Waterbury for over 10 years and have a long history of satisfied customers. With roof replacement often being a new challenge for many of our customers it is important that you choose a trusted and well recommended roofing company. With a complete new roof from Rubman Construction LLC, we handle everything from supplying all the materials to organizing the scaffolding and containers.
All aspects of roof repairs covered by our expert roofers in Waterbury. From emergency roof repair work, storm damage repairs, general wear and tear repairs, roof maintenance and complete roof renovations. We are experts in roof repair, and we know that over time your roof may need a little extra care – that's why we are here to help with any roof repair in Waterbury and get your roof in great shape.
Our job as the best roofers in Waterbury is to make sure that your roof is going to protect against the elements, and that any repairs we do are going to last a long time and protect it well into the future.   No matter what size repairs you need, we will be there to get it to a superior condition.  We work quickly and efficiently, but always with a high level of quality, and always clean up when we're done.
If the drywall in your home is in disrepair, it can have a negative impact on both the appearance and functionality of your home. Fortunately, at Rubman Construction LLC we are home improvement experts available to provide high-quality drywall installation and repair services that you can trust.
Whether it's water damage to your walls and you want to prevent further damage from occurring, or you need to repair a hole caused by decorative drywall, Rubman Construction LLC can help. Our highly trained technicians know the proper techniques and materials and can help you with all of your drywall needs, no matter how big or small. We will install a wide variety of products to suit every job.
We provide high quality interior painting services and exterior painting services for residential and commercial in the extended Waterbury areas. Rubman Construction LLC is licensed and insured. We are one of the leading painting contractors in the area and we are dedicated.
Our goal is your satisfaction. We provide personalized services to help you with any interior and exterior painting project, from small to large. The experienced team at Rubman Construction LLC specializes in making houses feel like homes through interior and exterior painting services. If you're looking to transform your home or business, it's time to contact Rubman Construction LLC.
If you live in Waterbury, or the surrounding area, you know that the region's weather can be unpredictable and harsh on your family's home! Your property's roofing system is one of the main lines of defense you have against the elements, and the team at Rubman Construction LLC can ensure that your next whole roof replacement project is handled with the utmost care and respect. With our superior products and certified, professional roofers, you can't go wrong choosing us as your roofing contractor.
Rubman Construction LLC is your full-service contractor you can trust for quality roofing services. In the area of whole-roof replacement for both residential and large-scale commercial roofing in Waterbury, we are equipped to handle any size project. Whether it's architectural design, having the right roofing materials, or expert installation, you can rest assured that your new roof will be built to withstand the test of time and the harshest winters.
Rubman Construction LLC provides a professional and friendly gutter repairs and replacement services to all residential and commercial properties in Waterbury and all surrounding areas.
All of our residential and commercial gutter repair and replacement team specialists are fully experienced in working with high ladders, safety harnesses, scaffolding or forklifts and are trained in health and safety at heights.
Our warranty is simple and customers who have their gutters replaced can inspect the final results and to reassure you of our ability to offer complete satisfaction and to alleviate any concerns we give every customer whether residential or commercial a free 5 year warranty on replacements.